Morningside Elementary teacher Wendy Portillo had a vote last week with her class to teach a child a lesson about how his behavior effected his classmates. She felt that maybe if he heard this from someone else besides adults he may grasp the situation better, and respect others in a more proper fashion.


According to Slate:


Alex, who is autistic, was taken to the assistant principal, to whom he promised he would "not kick students, throw crayons, eat crayons, crawl under the table, kick the table of other students ... [or] disrupt the class," according to a police report. (See excerpts below and on the following six pages.) The assistant principal tucked in Alex's shirt, put his "shoes on the right feet and tied them," and sent Alex back to class. During Alex's absence, his teacher, Wendy Portillo, "gathered the students to talk with them" about the youngster's misbehavior.

When Alex returned, Portillo, who has been teaching in Port Lucie for 12 years, directed the youngster to the front of the room and "asked him to listen to what the children didn't like" about him. According to Alex, the children complained that he "eats paper, picks boogers … and bites his shoelaces," and Portillo herself said, "I hate you right now. I don't like you today." (Page 2). Portillo next "polled the class" about whether to let Alex back in (Page 4). Alex lost the class vote, 14-2, and spent the rest of the school day in the nurse's office. That night, Alex "did not eat dinner [and] would not sleep in his own bed." (Page 2).

The day after Alex's kindergarten show trial, his furious mother contacted the police school resource officer to report Portillo for child abuse. The police officer interviewed Alex ("Mrs. Portillo is very mean," Page 2); the teacher ("the students in class were all her priority," Page 3); and several child witnesses (Pages 5 and 6), and in the end concluded there was no "probable cause" for criminal child abuse (Page 6). The St. Lucie County Public School District is still investigating whether any department regulations were violated.
CBS News had this interview with Alex's mom:
In this video the mother stated that after the classroom took a vote 14 to 2 to kick the student out of her classrom, and she said the child, "How do you feel?" The children said he felt sad. She asked him where he was going to go, and the child mentioned the principals office. The teacher said, "They don't want you there!"
Another portion was that his best friend in the class was also asked if Alex should say in the class, and his friend said he wanted him to stay. The teacher then called on that friend a second time, and I'm sure the poor child felt pressured and finally decided to go along with the crowd.
As a parent of a disabled child this interview made me cry. I have been in situations myself in which I felt all I was doing was defending my child's rights as a human, and adminstrators attempted to strip it away.
There are places popping up all over the place showing support for this child, and attempting to show him how special he is! They are sending cards, and having facebooks made. The child is still struggling as he recounts how the different children in that class were asked to one by one tell Alex WHAT they didn't like about him! Then voting to have him removed. The principal telling the mother that the teacher felt she didn't do anything wrong.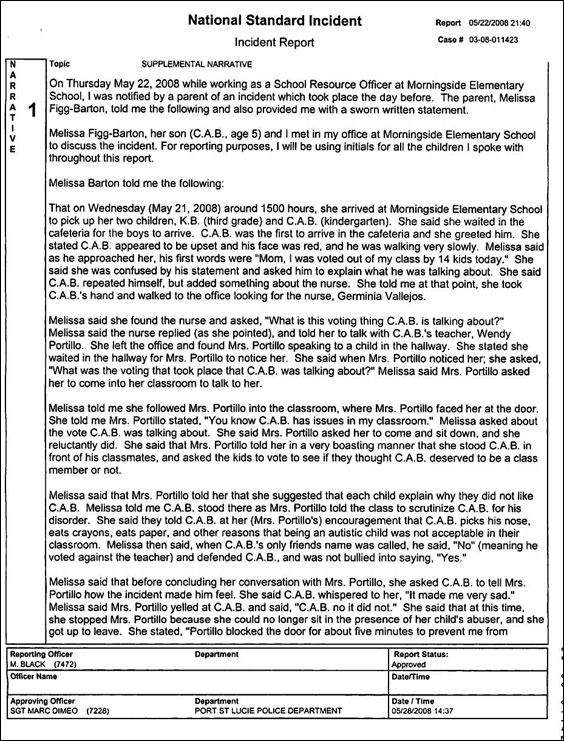 It amazes me the cruelity that people can place upon others. We are talking about a child in kindergarden. How do you think this will effect his view of school from this day forward? I can only imagine!
Adventures In Frickintardistan
TheDeeZone
Have some lively dicussion about this child.
My prayers are with you Alex, and with you as well Ms. Portillo. I don't think you realize how much you took from this child, and I don't CARE how much of a handful he was.