I found a series online for the Gospel of John. I will post them in sequence!
Also here are some quick links to rest!
Gospel of John - Day Two
Gospel of John - Day Three
Part One
Part Two
Part Three
Part Four
Part Five
Part Six
I will post some Tommorrow!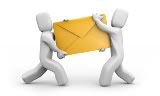 If you enjoyed this post and wish to be informed whenever a new post is published, then make sure you subscribe to my regular Email Updates. Subscribe Now!
Thanks For Making This Possible! Kindly Bookmark and Share it: