I saw a video posted on YouTube that I wanted to share. It was a man that was responding to something he said joking around, and someone took it really serious. He was then reminded of his leadership and authority within the home. He was joking about pets in the family, and how certain dogs were HIS and the others were his wifes! He was being humorous. Here is his response about how men can take advantage of certain verses - even about Wives, Submit to your Husbands! He was addressing the person reminding him about his authority.
There always seems to one that has to bring up the verse in Genesis (3:16), and how God placed the order down there. I have to scratch my head in confusion everytime someone does this. We are talking about a
curse
- which I would assume to MOST people would be mean 'bad' no? The man will rule over her being a curse, and yet it is used as tool to have women obey men seems to contradicts how you are to deal with curses.
I mean if you know God had cursed someone do we use that curse to your advantage? Is that correct? People can say that is a consequence. Okay. So what are they saying? God says its okay to take advantage of people's consequences then? We are talking about personal responsibilities and not something wartime here by the way!
Part of that passage speaks about pain in childbirth as well. Are we in sin when we use things to sooth that pain as well? I mean some ladies use breathing, exercise among other things to make the pain of childbirth more tolerable.
Why is it acceptable to ease childbirth, and then go in a completely different direction for the 'rule over' part? I mean we wish to EASE the curse of the pain of childbirth, and then use the 'rule over' you as something you don't wish to ease? So lets ease one portion of the curse and NOT the other! Does that make sense to anyone else?
The bible calls for the man to love his wife. We see scripture has a definition of what love is:
1 Corinthians 13:1-13 GW I may speak in the languages of humans and of angels. But if I don't have love, I am a loud gong or a clashing cymbal. (2) I may have the gift to speak what God has revealed, and I may understand all mysteries and have all knowledge. I may even have enough faith to move mountains. But if I don't have love, I am nothing. (3) I may even give away all that I have and give up my body to be burned. But if I don't have love, none of these things will help me. (4) Love is patient. Love is kind. Love isn't jealous. It doesn't sing its own praises. It isn't arrogant. (5) It isn't rude. It doesn't think about itself. It isn't irritable. It doesn't keep track of wrongs. (6) It isn't happy when injustice is done, but it is happy with the truth. (7) Love never stops being patient, never stops believing, never stops hoping, never gives up. (8) Love never comes to an end. There is the gift of speaking what God has revealed, but it will no longer be used. There is the gift of speaking in other languages, but it will stop by itself. There is the gift of knowledge, but it will no longer be used. (9) Our knowledge is incomplete and our ability to speak what God has revealed is incomplete. (10) But when what is complete comes, then what is incomplete will no longer be used. (11) When I was a child, I spoke like a child, thought like a child, and reasoned like a child. When I became an adult, I no longer used childish ways. (12) Now we see a blurred image in a mirror. Then we will see very clearly. Now my knowledge is incomplete. Then I will have complete knowledge as God has complete knowledge of me. (13) So these three things remain: faith, hope, and love. But the best one of these is love.
So if you look at the above definition of what God says is love why comments like, "Someone has to be in charge! He gave men that responsibility!" Its in the bible that women are to 'obey' us. We are the HEAD and have the last word! I mean does 'ruling over her' mean love? Do that line up with the scripture we find? Sounds like pride and arrogance to me!
I don't take issue with men and women within marriage yielding to one another. I mean that makes sense for harmony doesn't it? Does 'ruling over her' do the same thing? It would seem it would cause disharmony within the relationship, but so many men feel entitled to that. They claim they are the LEADERSHIP within the home! Remember SOMEONE has to be in charge right? We need to look to scripture for the definition of leadership!
Matthew 20:20-28 GW Then the mother of Zebedee's sons came to Jesus with her two sons. She bowed down in front of him to ask him for a favor. (21) "What do you want?" he asked her. She said to him, "Promise that one of my sons will sit at your right and the other at your left in your kingdom." (22) Jesus replied, "You don't realize what you're asking. Can you drink the cup that I'm going to drink?" "We can," they told him. (23) Jesus said to them, "You will drink my cup. But I don't have the authority to grant you a seat at my right or left. My Father has already prepared these positions for certain people." (24) When the other ten apostles heard about this, they were irritated with the two brothers. (25)
Jesus called the apostles and said, "You know that the rulers of nations have absolute power over people and their officials have absolute authority over people. (26) But that's not the way it's going to be among you. Whoever wants to become great among you will be your servant. (27) Whoever wants to be most important among you will be your slave. (28) It's the same way with the Son of Man. He didn't come so that others could serve him. He came to serve and to give his life as a ransom for many people."
Does that sounds like SOMEONE has to be in charge? Jesus said that we are NOT to have absolute authority over people, and yet it is preached to often that MEN are to have that authority. Wives, SUBMIT to your HUSBANDS! Absolute authority in some denominations - yet Jesus says that is NOT to be SO! I would assume because it goes against his defination of love!
Someone recently called to my attention Landover Baptist church. Its NOT a real church. In fact it tends to mock the counterdictions they see within the church, and BOY does it make the church MAD!
The church can make all the excuses they want about how that ISN'T what they mean in those scriptures! That is HOW some men view them, and what the author of the first video's point was! YET others seem to have this URGE to remind us of Genesis 3:16.
Some men claim due to Eve being the first to sin that is way things are the way the are! Can I giggle back and remind them WHOM was the first to lie? It wasn't Eve! Adam lied and tried to NOT take responsibility for his actions. Funny how the 'Eve' portion you hear alot about, but that Adam characteristic? WELL - that so does NOT apply does it? (No. I don't think all men are like that! NOR do I think all women are easily deceived!)
To me those that push the WIVES submit to your husband, because EVE was easily deceived so that makes all women so...and that is WHY we must 'rule over' you crowd pretty dangerous. I mean if they believe that do they believe men tend to be lairs and blame shifters? If so, what makes them good leaders? You can't use ONE portion of scripture and NOT use the other in the same WAY!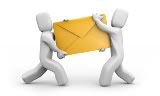 If you enjoyed this post and wish to be informed whenever a new post is published, then make sure you subscribe to my regular Email Updates. Subscribe Now!
Thanks For Making This Possible! Kindly Bookmark and Share it: