I made an escape button today. When you click on that escape button you will be sent to google.com.
I figured I would share the html in case anyone else wished to place that on their blog.
Click on the graphic below to understand what I'm talking about!
I have placed the html code in a scroll box below, and all you have to do is copy it and paste it into a html gadget for blogger.
Delete the
< br />
at the beginning, and the
< br /> at the end. I can't figure out HOW to delete it!
Use your notepad program on your computer to do this. Other programs strip the html in a way that is NOT use able.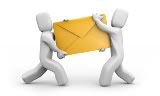 If you enjoyed this post and wish to be informed whenever a new post is published, then make sure you subscribe to my regular Email Updates. Subscribe Now!
Thanks For Making This Possible! Kindly Bookmark and Share it: