In Contempt
has an article, and the above cartoon the made over the author's feelings regarding people's reactions to Chris Brown's abuse of Rihanna.
The author notes:
I was really reluctant to do a cartoon about Chris Brown's abuse of Rihanna. For one thing, domestic violence is not inherently funny (duh); and there is always the risk of hurting the feelings of someone who has been abused or triggering past trauma. My little comic strip may be irreverent, disrespectful to authority, blasphemous, and rude-crude-and-lude. But it should be clear to most of my readers that mocking victims of violence ain't my shtick.
It seems to me that the secular world also has their ways of NOT talking about domestic violence as well.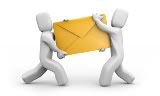 If you enjoyed this post and wish to be informed whenever a new post is published, then make sure you subscribe to my regular Email Updates. Subscribe Now!
Thanks For Making This Possible! Kindly Bookmark and Share it: