The last couple of weeks I have been working on this new template for Emotional Abuse and Your Faith.
I would like to thank
My Blogger Tricks.com
for their help, and wonderful skill to help fellow bloggers with their own blogs.
I have been posting alot of lists lately, and I was basically starting new references for my home page. I believe I'm pretty much done with that for now. I just have a couple of pages left, and I SHOULD be done!.
I would love to hear what you think!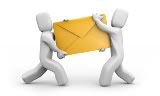 If you enjoyed this post and wish to be informed whenever a new post is published, then make sure you subscribe to my regular Email Updates. Subscribe Now!
Thanks For Making This Possible! Kindly Bookmark and Share it: