Click here to view Video
It doesn't have a faith theme to it, but it is a good peice.
Here is the link to the source.
They also have a spanish version.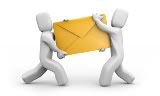 If you enjoyed this post and wish to be informed whenever a new post is published, then make sure you subscribe to my regular Email Updates. Subscribe Now!
Thanks For Making This Possible! Kindly Bookmark and Share it: