The problem has been compounded by the fact that some complementarians seem to shy away from using the term mutuality. Perhaps they would rather avoid the word than attempt to extricate it from egalitarian connotations. That's too bad, because both the egalitarian effort to redefine the word, and the complementarian hesitation to wholly embrace it, obscure a profound biblical truth: Complementarity fosters mutuality at a far deeper level than sameness does.

– Mary Kassian
Mary Kassian started a series called,
Complementarity & Mutuality.
The comments were particularly interesting reading. She was called out on the terms that they tend to use regularly to define the differences between complementarian and egalitarian beliefs. The strange part to me? She tends to redefine 'belief' systems with her own terminology.
The points that were made is that you can't find these terms like 'sameness' or 'role-interchangeability' outside the complementarian realm. These terms are not used within the Egalitarian circles, and makes it is confusing as to why they need to use them at all.
Mary Kassian basically said she couldn't come up with better terminology, and how semantics are confusing. (shrugs) I guess that means they made up something, because they can't figure out how better to describe it. It certainly takes much away from what some think she is trying to say.
I think most would find that explanation rather disingenuous.
I mean all you have to truly do is google the term Christian Egalitarian, and come up with a better definition that uses plain English without extras.
Let try that:
Christian egalitarianism holds that all people are equal before God and in Christ; have equal responsibility to use their gifts and obey their calling to the glory of God; and are called to roles and ministries without regard to class, gender, or race.
Makes a bit more sense than 'sameness' or 'role-interchangeability' doesn't it? Most would be able to understand the term 'mutuality' within the above definition as well – without her make up words.
Readers seem confused between complementarian versus hierarchy
If you look a bit closer? Most of the questions to her were about hierarchy, and how that plays into life. Mary Kassian is forever stating that complementarian belief systems is not the same as hierarchy as some are describing it.
So why are they are always making these debates about complementarian compared to egalitarian? That doesn't seem to be the debate at all. At least to her readers that have questions!
People are confused about what complementarian stand truly IS! How it is different from 'traditionalism' or 'hierarchicalism' as she quoted it.
If you notice the comments, questions, and explanations given most of the time on their information has more to do with what Mary Kassian terms as: 'hierarchicalism wrapped in legalism'. Last time I checked? That has nothing to do with egalitarian beliefs.
Instead of getting defensive … stand up against these teachings that harm so many, and do so with more than a sentence or two stating that isn't what you MEAN or how your beliefs work!
What it shows is that they have a HUGE hindrance in regards to their definition of what they believe. Her articles on strawman's or complementarian's for dummies don't seem to be doing her position any justice. It seems she is to vague as to what it is – as opposed to what it isn't.
Why do they keep presenting things as 'complementarian versus egalitarian' then? I would guess that is something she would rather discuss, but it should tell them something when they can't get past the 'hierarchical' portion of the discussion. There seems to be a lot of confusion as to what the difference is.
Maybe they can could make up some more words to make it more clear?! I wouldn't recommend it, because their made up terminology thus far isn't doing them any favors.
Gender Roles versus God's gift to be used for his Glory
If we want to be honest they do not agree with women holding certain positions – or what they call roles as well. Egalitarian's don't believe in men having the 'trump' card of the last word, because they feel it is not needed. The holy spirit will nudge one with prayer, and quiet listening. They are fine if the man is gifted in spiritual ways, and show his natural talent/gift for it.
If the woman shows the same gifts/talents?
Its not a slam to the men, or their position.
You see the gifts are to be used for the Glory of God. Its not about the 'gender role' to them – its about giving Glory to the Father.
Our Father gave them the gift, and the Holy Spirit showed them how to be used by him.
The gifted female doesn't just have to be pastor after all, and yet that is what you seem to hear about the most. The gift doesn't mean that she doesn't submit to her husband, and he doesn't love and honor her. Guiding the family, and honoring the family means so much more than just a job to support them. It means so much more than leading prayer, or bible studies. Protection can mean so much more than going first when you hear a robber in the house in the middle of the night.
When you hear women leaders in Sunday School or church? Watch their husbands at times, and you see him beam with the love and honor he feels. I realize that some within the opposite circle still will call that wrong. How they aren't doing it right, and it will in time lead them down the wrong path. What they seem to not get is because they are one flesh? They don't have to be so disconnected in certain ways to feel honor due to the other's gifts to God. That gift does reflect positively upon them as well. They are a 'unit' or 'one flesh' afterall.
PR issue due to confusion they are creating?
As John Piper states he wants egalitarians to explain to him what it means to be a woman, and not a man…or be a man and not a women. He also will go on to tell you certain explanations he has received, so he gets to giggle and tell them they don't get it.
Seems to me that instead of them making up concepts towards others they need to concentrate to showing others what they are talking about. It seems the more they try to explain they more people get confused. Then – yes – they come back to hierarchy. Then round and round they go once again.
They need to take the log out of their own eye, and see the true debate in front of them. That means to stop using 'feminism' in front of words as their silent slam against what they see as opponents – instead of Brothers and Sisters in Christ.
That isn't counter cultural after all.
We see it in politics all the time! Made up beliefs, actions, and coining of new terms to attack the opponent. Sadly, that seems the current culture – not counter cultural.
Stop the disingenuous labeling, terminology, twisting of beliefs. Don't blame semantics, use your own straw men ideas. Acknowledge your PR issue is beyond Dora the Doormat, and stop hunting to see those feminist's around every corner that are coming to get you and your church! If you look at my piece called
Fannie the Feminist
? I didn't write it! I used Mary Kassian's own quotes of straw men towards others. They were not hard to find either. People do see this, and they question her position due to it.
Its common sense and human nature!
One thing I have noticed is that she uses examples most of the time from the secular world. We are not to judge those people, but leave them to God according to the bible. If the world reads what she has to say about them (again mostly stereotypes)? They will see a negative nelly, and how will they bring them to Christ? Do they want to do this with shame in that fashion? That would remind most of a clic in high school, and not why God would wish them to come to him in faith.
They state they speak out against abusive and oppressive 'hierarchicalism wrapped in legalism' type of teachings. Where are the loads of articles, videos, books, teachings, etc. against this? Again if we look to the bible?
They ARE the ones we are called to rebuke!
Yes, that means more than just a sentence or two. Yes, they believe in the same 'gender roles' but they add to it so much more right? It would seem they are the real danger, and are the ones you should be calling out. No?!
The silent digs, the disingenuous labels? You wouldn't need them. You could use plain English that everyone understands, and I would bet others would champion by your side. They are the ones that so many speak of as reasons for leaving the faith. For turning away from God. Its not because they were bad, but due to the incredible hurt, fear, and isolation that happened. That would be something too many people would understand.
There is a true enemy – wolf – within the faith that both sides can fight to condemn
To me is it very sad that they feel they need to campaign against Egalitarian beliefs when the true enemy of the faith is around way to many blocks in our neighborhoods. They are the ones that harm the sheep due to being wolfs. They are the ones that Jesus would have us speak out against, and help find those lost sheep to be brought back to him. Those lost sleep are also SOME of the ones that question you in your articles, and you react in a defensive manner due to you feeling attacked. Remember as you acknowledged they are speaking out against Hierarchy right? The defensive mode then makes no sense.
Just a side note? Mary Kassian asks for honest dialog, discussion, etc. about the egalitarian beliefs. Many leave offers in her comment sections, and yet are moderated right into the recycle bin. That at the very least is dishonest. Come on Mary! You got offers – TAKE THEM!
Redefining of Words
I have to ask others about a comment, and her response and ask you if you don't see how maybe she is redefining the word 'mutuality'!
Her Definition:
The dictionary defines mutuality as "the quality or condition of reciprocity." Mutuality simply means that an interaction is reciprocal. Each party gives and receives something from the other. It's not a one-way relationship. That's not to say that the people are the same. Nor that they give and receive exactly the same thing. Nor that they do so in the same way. Mutuality doesn't require sameness. It can occur between people who have different things to offer. In fact, difference actually creates a powerful impetus to reciprocate.
The comment and response:
Following with the musical metaphor – it would be like in a jazz group, with keys and guitar, sometimes the keys will play a support role and let the guitar feature and, at other times, the guitar will play chords to allow the keyboard to shine. It would be silly to have a band made up of just keyboards, and I don't think many egalitarians are suggesting marriages should be like this. However, it would be a lost opportunity for each instrument to stick to the same role throughout the piece when they can support each other in various ways.
What do you think? – a commenter wrote
However, the jazz band illustration doesn't exactly apply to the male female relationship. The Bible teaches that God created two sexes, male and female, to reflect complementary truths about the gospel. He didn't create 3 sexes, or 10 sexes, or 20 to do this. He created two.
Yes, there are many different types of women, with different gifts and different personalities, as there are many types of men with different gifts and different personalities. So there IS a lot of diversity. But that diversity is expressed in two sexes. I can be an athletic woman, or a woman who rides motorbikes, or woman who is a talented engineer or mathematician, or who has the gift of teaching…. But I am still a woman. And being a woman means something different than being a man. – Mary Kassian's response
Mutuality simply means that an interaction is reciprocal. The commenter wrote about this, and yet Mary told her she got it wrong.
THIS is what causes confusion! In other words, its reciprocal in its true form ONLY when you stay within your 'biblical role' is what you mean.
That concept is not clear in the dictionary.
Per the dictionary definition of reciprocate:
transitive verb
1
:
to give and take mutually
2
:
to return in kind or degree <
reciprocate
a compliment gracefully>
intransitive verb
1
:
to make a return for something <we hope to
reciprocate
for your kindness>
2
:
to move forward and backward alternately <a
reciprocating
valve>
The dictionary doesn't have the complementarian extras. You make things confusing when you don't point those out when you use them!
It makes your definition of mutuality look like a bait and switch!
Additional Articles from Difference Blog/websites:
Having your Cake and Eating it Too!
Gender roles in Genesis 2? Where?
Who is the 'head'?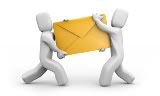 If you enjoyed this post and wish to be informed whenever a new post is published, then make sure you subscribe to my regular Email Updates. Subscribe Now!
Thanks For Making This Possible! Kindly Bookmark and Share it: